We produce some of the best fertilisers on the market today and supply them throughout the UK, Ireland and Europe. Angus Horticulture is an independent family business which competes well with multi-national corporations. We make use of the most technically advanced and up to date raw materials and manufacturing processes to offer our customers cutting edge products.
Our family firm set up allows us to offer a flexibility of service and bespoke products even with low volumes. We're proud of our heritage as fertiliser manufacturers offering a highly flexible service and meeting customers' specific requirements. Angus Horticulture produce granular, sand based powder, soluble powder and liquid fertilisers as well as root zone amendments and our class leading BioActive range of products.
Angus Horticulture is committed to high levels of customer service to all our customers. Product integrity is of the utmost importance to us as is friendly and efficient contact with our customers.
We also promote a holistic approach to sports turf nutrition, considering all aspects of root zone health, microbiome and plant requirements. Our formulations are continually revised to bring new products into our portfolio. We also offer more than we can advertise, so please ask if you can't find something you require or if you require any advice, please don't hesitate to contact our office or your local Angus Horticulture distributor.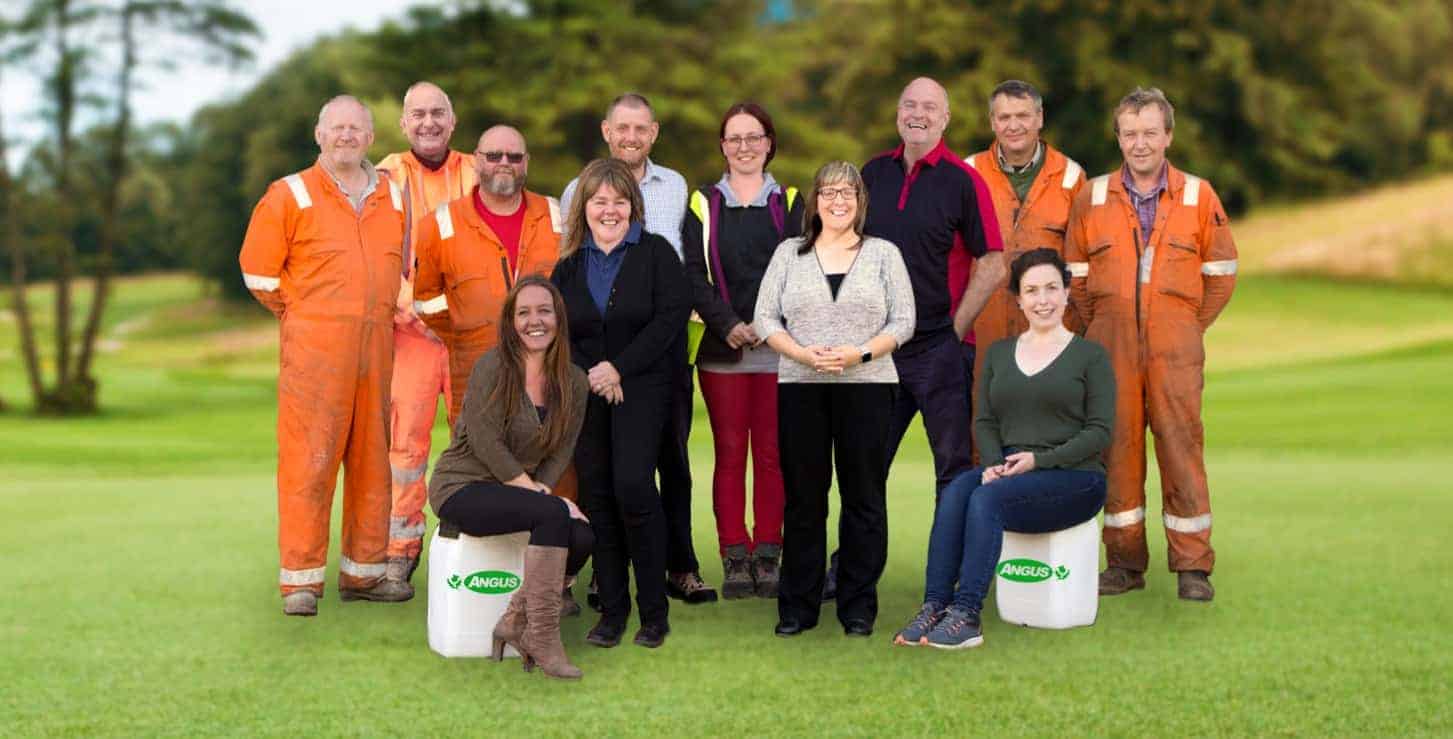 MacMillan Methodology 
Promotes chemical free activated microbial turf management.
Freelance fine turf agronomist and biology consultant working in partnership with Angus Horticulture. Ian MacMillan has worked in, taught, advised and advanced the fine turf industry for over fifty years. He was the first person to achieve Stage One Master Green Keeper in the whole of Europe and became the first Master Green Keeper in Scotland.

Activated microbial turf management is simply maximising the resource that every turf manager already has – the soil
Over the last few decades the use of synthetic fertilisers and pesticides has become the norm. Modern turf managers have a very good understanding of soil chemistry and soil physics, but soil biology is the missing link in getting your soil working for you to break the reliance on inorganic inputs to maintain quality playing surfaces.
Soil Biology
There are more living soil organisms in a teaspoon of healthy soil than there are humans on the planet, an incredibly diverse mix: from single-celled bacteria, algae, fungi, protozoa to more complex nematodes and arthropods. All these organisms have developed naturally over billions of years to form the "Soil Food Web" which supports healthy plan growth.
The Soil Food Web is the community of soil-dwelling organisms that is fueled by the fixation of carbon from atmospheric CO2 by plants and some specialised bacteria. This is then cycled into the soil through root exudates and waste plant materials (dead leaves, roots, etc.,) which the organisms then feed on. They break down the complex organic materials into nutrients which then feed the plants.
It is important to remember that the soil organisms rely upon plants to supply them with food to keep them alive – this is why they supply plants with nutrients and protect them from attack from pathogens. Soil biotas form a mutually beneficial association with plants, keep them healthy and provide them with nutrients – why not take advantage of this? MacMillan Methodology advocates feeding your soil to keep it healthy – this method with naturally look after the plants growing in it.

Changing from Chemically Intensive Management
Constant mowing of turfgrass reduces photosynthesis and the supply of carbohydrates to the soil. This will reduce the diversity of the soil food web and the plant disease defenses and environmental stress management mechanisms will stop working effectively. This leads to the turf manager into the vicious circle of treating disease with fungicides and treating reduced health and growth with synthetic fertilisers, resulting in a negative effect on soil pH, CEC and microbial diversity and more chemical solutions are used to solve the problems.
Inherently this is a biological problem that is being treated with a chemical solution. By maximising the natural potential of the rootzone, healthy and resilient turfgrass surfaces can be produced without applying soil damaging chemicals.
Moving Away from Chemical Reliance
Withdrawing chemical abuse and putting your soil into rehabilitation would be our starting point to restoring the biology of the soil. In coming to an understanding of how natural growing really works, you must cast off previous misconceptions from chemical practices – that when we add food we are feeding the plant. This is not the case. With true natural feeding we are feeding the microorganisms within the soil and on the surface of the plant which convert organic nutrients into a form which can be assimilated by the roots and leaves of the grass.
Contact MacMillan Consultancy: 
07934 111518 

 
ian@macmillanconsultancy.com